Balloon Decor, Invitations & Wedding Accessories
Balloon Designs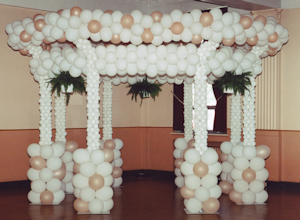 Balloons are magical and the designs of Wedding Elegance by Joelle can make any event sensational. We blend brilliant colors and imagination to create designs that your guests will never forget! At Wedding Elegance we are dedicated to creating high quality, cost effective balloon decor in all shapes and sizes! Award winning designer, Joelle C. Hadix, is proud to showcase her ballooning talents. Joelle is 1 of 3,000 worldwide Certified Balloon Artists and has won multiple awards at "Ballooniversity" annual training camps as well as the "International Balloon Arts Convention." Some of Joelle's trademark designs include: Cherished Heart Canopy, A Garden Gazebo, Fantasy Clouds, Bridal Wreaths, Interlocking Hearts, Creative Arches, Lavish Balloon Drops and Centerpieces.
Wedding Invitations
Wedding Elegance by Joelle is the premiere supplier of wedding invitations. We offer the largest selection of wedding and shower invitations with over 3,500 to choose from. We are proud to offer our beautiful wedding invitations at 40% off everyday! Stop by our store to see actual samples or order on-line at yourinvitationplace.com or weddingelegance.cceasy.com and receive 30% off your entire order.
Wedding Accessories
We have a full showroom just waiting to fulfill your wedding needs! We carry the top accessory designers. We have a large selection of guest books, pen sets, unity candles, toasting glasses, cake tops and so much more! Stop by and visit our 50% off inventory corner!