Wedding Rentals
At Wedding Elegance by Joelle we aim to make your day memorable and worry-free! We are a full-service rental company, and our attention to detail and personalized service has gained us an excellent reputation among caterers and event planners. Our standards are high, so you can feel confident using us for all your party rental needs. We would be happy to help you plan your event. Some of our rentals include:
Beverage Fountains: We have gold and silver five-gallon fountains, great for fuzzy navels or punch! Rental $59.00 plus security deposit.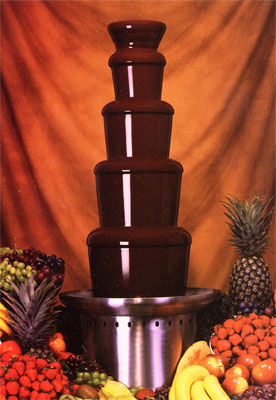 Chocolate Fountains: Our chocolate fountains are the ultimate dessert for any occasion! We offer white, milk or dark premium Belgian chocolate and three different sizes of fountains. The elite fountain will feed up to three hundred people and stands over four feet tall. It includes twenty-five pounds of premium Belgian chocolate, five hundred wooden skewers, three hours of dipping time with an attendant, set-up and clean-up. The deluxe fountain is a little smaller than the elite fountain, it feeds up to two hundred people and includes twenty pounds of premium Belgian chocolate, two hours of dipping time with an attendant, set-up and clean-up. The mini fountain is for smaller functions and includes six pounds of premium Belgian chocolate.  You pick up the fountain, you clean it and return it the following business day. Please call us for pricing!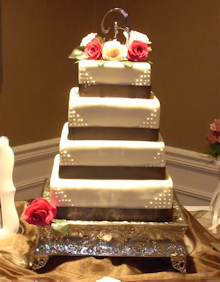 Cake Plateaus: Plateaus elevate your cake for better visibility by your guests.  Our ornate plateaus come in round or square and silver or gold metal.  The rental is $25.00 with a decorating package.  Other options are available in crystal, pearl, lace, and rustic themes for an additional cost.
Dinnerware, Glassware and Silverware: Getting married at a fire hall and need to dress up your table with dinnerware, glassware or silverware? Our package includes: one dinner plate, one salad plate, one water glass, two forks, one dinner knife and one spoon.  Available dinnerware styles include white with silver rim or ivory with gold rim.  We also have silver and gold matching flatware.  The rental is $5.50 p/p and is only available with a decorating package. Additional plates, glasses and silverware are available upon request.  This price includes delivery, set-up and pick-up.  
Charger plates: Our chargers are available in silver or gold and add a glamorous look to any table design. The rental is .75 p/p and is only available with a decorating package.  New to our inventory, crystal rhinestone charger plates now available for $3.50 p/p.
Centerpieces: We have over fifty different rental centerpieces including our new crystal trees! From lanterns to assorted glass why buy when you can rent for a quarter of the cost of buying.
Table Numbers: Do you need to let people know where they are sitting? We have tasteful frames in a variety of styles and themes for your tables. The rental charge is $3.00 and up per table number and is only available with a decorating package.
Ficus and Fall Trees: Need to add something to your reception t o make it more cozy?  How about ficus trees or fall trees with glistening white lights?  We have twelve green leaf trees available for rental.  The green ficus trees are twelve for $200, and the fall trees are six for $120.  Tree rentals are available with decorating packages only.
Roman Columns: We have four-foot, six-foot and eight-foot Roman columns available with decorating packages.  Please call us for pricing!
Wedding Arches: We have various arches available for use at your head table or at the ceremony.  These arches add elegant charm to any wedding event.
Fabric Backdrops and Draping: Our most popular items available to rent in white, ivory, or black backdrops.  We add fabric with your wedding colors and lots of lighting.  Looks great behind your head table or over your dance floor!  Please call for pricing.
Chiavari Chair Rental: Pictured below at left.  These beautiful chairs include a white or ivory chair pad.  Cost is $8.50 per chair, or $7.50 with a package.  Delivery, setup, and pickup within the Johnstown area is included.  Call for a quote for events outside Johnstown.   Available in mahogany, gold, silver, and black, with other colors available at additional cost.
Card Box Rental: We have a wide selection of styles to choose from including a photo box (pictured below) in white and ivory in two different sizes.  Why buy when you can rent?  Call for pricing.
These items (except the chocolate and beverage fountains and chiavari chairs) are available for rental with a minimum decorating package.